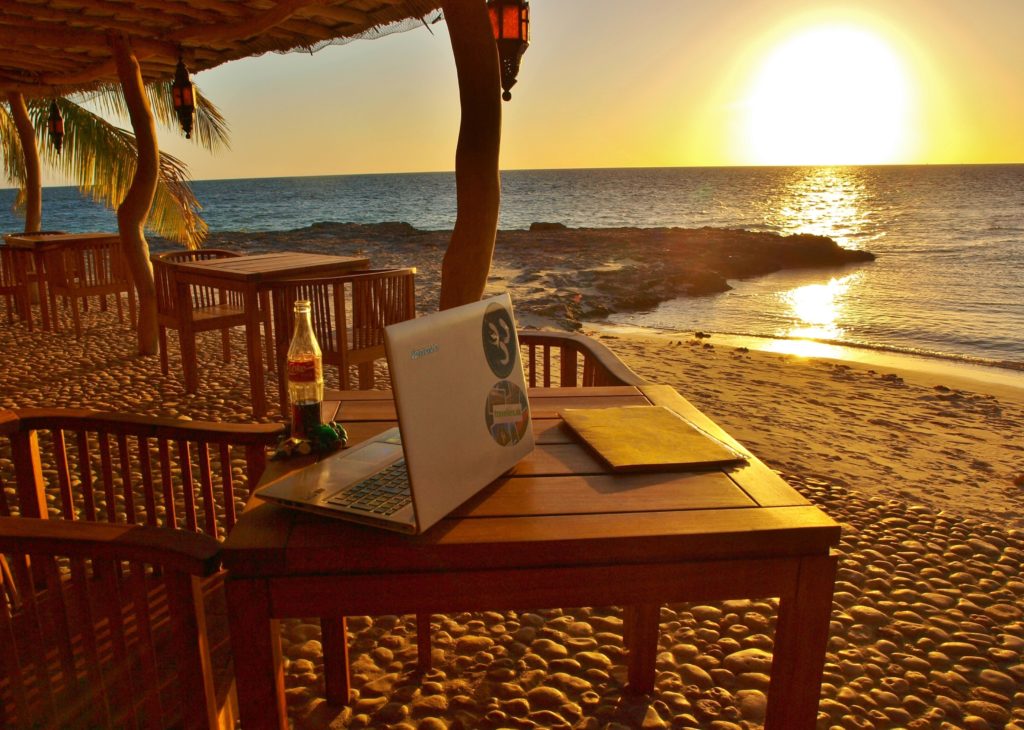 I said goodbye to Europe and Paris before lunch. Since I don't remember when I was sleeping last time, I wanted to be hidden under a blanket most of the flight. Sometimes I looked some movie from the offer of Air France. You can not find new movies as in Emirates but you can choose something good.
Next stop: MADAGASCAR.
I arrived on the largest island of Africa and the fourth largest island in the world (yes, I'm talking about Madagascar) at night around 23:00. The flight from Paris to here takes about half of the day. It is easy to survive with hibernation under a blanket and with some movies.
Immediately after leaving the aircraft I had to wait one and half hour for a stamp and issuing a visa. The price for the visa is 32 € for one month (25€ for one week) and you can buy it in the airport. Did you know that 5 people are needed for one simple stamp and for one singature in Madagascar? At least they have some job here.
I had to notice the looks of Madagascar people in the plane. The correct name for the inhabitants of this great island is Malagasy. Malagasy people. And their language is Malagasy language.
People from Borneo (East Asia), of course from Africa, to a lesser extent Arabs and Europeans - everything has been mixed together over the centuries and these really interesting and exotic-looking people are the result. Some women are really very nice.
(Author's note: I'm without a girlfriend long time.)
Malagasy language is not related with any African language. The most related language is from Borneo, far in eastern Asia, from which people came here long time ago. The inhabitants of Madagascar (I repeat the correct name: Malagasy) are largely Asians, especially in the middle of island - the capital city Antananarivo and its surroundings. You can notice their mongoloid looks. They are really not tall. 🙂 People from the coast of Madagascar have more African origin, so they are visibly darker, but they are Malagasy too.
The exotic island surprised me immediately after leaving the aircraft. I traveled here from the Alps, where I was over 3000 m above sea level, but I did not feel such winter there as the first night in Madagascar. Seriously!
It was July and I was in the southern part of the Earth. If it's summer in Europe, it's cold weather here. If it's winter in Europe, Madagascar has warm weather. So went to sleep with my sweatshirt under the blanket in Madagascar. Who would have said this about this African, exotic island?
Next free day I went to visit the capital city Antananarivo (yes, twice "na"). Or the truncated name for this city - Tana. Here we can find the most important historical monuments in this island. It was also my program with clients first day. They already went from Paris.
Antananarivo has about 3 million inhabitants and it is the largest city of Madagascar. In my opinion this city is the real wilderness. If you have to be careful in Madagascar, so especially in this city. Madagascar is a safe country.
The whole island has about 25 million people and the number of people is still rising.
After discovering the capital city, we had to fly with people to beautiful beaches in the southwestern part of island but Madagascar has own plan. Madagascar says that you are going to fly today and not tomorrow as you have in your plan. So we had to fly when they said us. Antananarivo tour had waiting us later. We went to the southwestern.
Can you imagine those people who are flying here for 12 hours and then you tell them at midnight that they will not sleep much but they are going fly again? Their facial expression: :O
Flight to Toliara takes two hours with one more landing in Tolanaro. Then we are going several kilometers from Toliara to north to Ifaty village where you can find beautiful beaches.
If you know geography, I think you know that we are on the shore of the Mozambique Channel that separates Madagascar from Africa. Africa is about 400 km away from Madagascar in the narrowest part of Mozambique Channel. In the south, the channel is wider. I do not think that you can swim to the other side.
We could watch several small wooden boats at sea. They are fishermen of the Vezo tribe - these people have more African roots than Asian-African Malgasy from the center of Madagascar, so they are little darker and different. The Mozambique Channel is their livelihood or how one local girl told me - "their big shop."
Program for today: nothing and sunset. It is the best program for guides but such days are really very few!
I have to mention the wonderful accommodation where we live - Les Dunes D´Ifaty. The price per night is approximately 100 € here. 100€ in the country where some people still don´t have euro per day. Madagascar is one of the poorest countries in the world but tourists sleep in a completely different world.
If you want a souvenir, you often have to deal a good price. For example, a pendant from 15,000 ariary (slightly over 4€ ) to 10,000 ariary (less than 3€). A person who has thousands of euros for tickets, luxury accommodation, more luxurious food ... wants one euro less for these people. It is quite crazy but normally.
The local currency is ariary. Madagascar has a new look of its money right now - left old ariary, right new. I'm one of the first to have new ariars in own wallet. Some villagers do not know what kind of money I gave them and I just wanted to pay with new Madagascar money in Madagascar. 🙂
Course: 1 € = 3 586 ariary. Madagascar is one of the few places where you can be a millionaire.
In the next part: We visited Isalo Jurassic Park, where the first lemurs were waiting for us and we found out why a dead grandmother is sometimes home in Madagascar.
Photos & text
František Fefe Kekely
Next parts:
II.: Visit to the Jurassic Park and why is a dead grandma back at home?
One month in Madagascar II: Visit to the Jurassic Park and why is a dead grandma back at home?
III.: The most beautiful trees in the world and we were very close to a wild fossa
IV.: The best day and world where "women" rule ♛
V.: Night in the jungle and 40 tons weighing animal in the air
Author
Professional travel guide, journalist and travel blogger who specializes in Africa, West Asia (Middle East, Caucasus), but also in some parts of Europe, such as the Balkans or the European mountains.