Useful advice and information to help you understand this safe and exotic place of Africa. What not to do? How to negotiate with locals? And what kinds of tasty food are waiting for you there? ?
Behind the Strait of Gibraltar, behind the corner of Europe, there is a kingdom that has hot Sahara and snowy ski resorts. How many countries can praise with something like this? And not just that. You can find here the sea and the ocean, the palm oasis with camel caravans and also the forests with the monkeys, modern avenue and living medieval, highest mosque, modern churches, synagogues and Jewish cemeteries. This kingdom of many worlds is called MOROCCO. 🙂
I have visited Morocco xy-times because I'm working as a guide there. I can say that this country is my next home. Therefore, I hope that these advice and information will help you to better discover this interesting part of Africa. 🙂 This article is especially about the important and very visited royal city of Morocco - Marrakech. Probably, if you visit this country, it will be right there. I will also write articles about other nice places in Morocco, but NOW let's take a look at this royal madness of North Africa. 🙂
Contents of this article:
I. Basic informations about Marrakech
I. 2. Historical bonus: Ruler dynasty in the city
II. Jamaa el-fnaa
III. What not to do there
III.2. Prices and how to negotiate
IV. Local dishes
V. Other interesting places of Marrakech
VI. Accommodation
I. Information about Marrakech
Marrakech is one of the 4 royal cities of Morocco. In other words: one of the 4 Moroccan cities, which were the capital cities of this country in some part of history. The other three are Fes, Meknes and Rabat.
Only one king ruled in Meknes, although the mighty king Moulay Ismail (17th century). Rabat is the capital/royal city because of the three last kings - including the current king Mohammed VI. So Fes and Marrakech were tha capital cities the longest time and we can say that they are the most important cities of Moroccan history.
I. 2. For lovers of history. The schedule of the dynasty that ruled from Marrakech:
(Who do not care about the history - skip to the closest picture.)
Almoravid dynasty - The Berber dynasty, which founded the city of Marrakesh in the 11th century. Their territory also occupied a piece of today's Spain.
Almohad dynasty - Also the Berber dynasty, which tried to cleanse Islam from various local, Berberian tradions. They led a successful uprising against the Almoravids and took power/kingdom in the 12th century. They also ruled in the territories of today's Spain. The city of Marrakesh was greatly rebuilt. The result of this rebuilding is, for example, the medieval Koutoubia mosque - the highest building of Marrakesh, which is still in the city center.
(Who played Medieval Total War 1, you can remember Almohad dynasty from the game. 🙂 )
From 13. to 15th century, the capital city was Fes.
Saadi dynasty - Rich dynasty from the 16th century, which has grown because of business - sugar, slaves... You can also visit the tombs of this famous, rich dynasty in Marrakech (more informations about it later). At the beginning of the 20th century, the world still didnt know about these royal tombs in the city center. That place was hidden. Besides the tombs, you can also visit the ruins of the Saadi palace in the city - famous El Badi palace.
Alaouite dynasty – The current, ruling dynasty that has been leading the country since the 17th century - the longest time. Alouti (beware, not the Alawites which are in Syria, Bashar Asad) ruled alternately in all 4 royal cities of Morocco. Including Marrakech. Today, their official city and the current capital city of Morocco is Rabat.
About one million people are living in this city, unofficially maybe one and half or two. But the feelign that you are in a big city is missing. You can not find so high buildings or skyscrapers here. The highest building of the city is the Koutoubia - Almohad mosque from the 12th-centur that has a 77-meter-high minaret. Nothing else should be higher than this building.
City of many names
Rabat is the capital of the Kingdom of Morocco, but Marrakesh still holds the title of the capital city of Berbers. Morocco has two basic ethnic groups living in this country - Arabs and Berbers. The majority, about 18 million from 30 million people, are Berbers and Marrakech is their largest city.
Another name you can hear is the red pearl at the foot of the High Atlas. Why red? This will be clear for you when you arrive here. The city has been built from the local red ground. Marrakech cares that there will not built any other colorful big buildings. Red is the color of this city.
If the weather is good, you can see the High Atlas - the highest mountain range of North Africa - above the city. If you are here during the winter, the first ski resort is from Marrakech just about half an hour away. African skiing is totally exotic. ?
Other nicknames of this exotic city are waiting a little down... ?
II. Jemaa el-Fnaa
Many of you probably have not seen it yet and have not experienced anything like that. If I had to choose one thing that makes Marrakech really unique for tourists, they are not its old palaces, walls or mosques, but this old square called Jemaa el-Fnaa. This name would be translated as "assembly / meeting of the dead." People were executed/killed here in history but you do not have to worry about it today. 🙂
Instead of the executioners, there are several stalls with juices, dried fruits, interesting food and not only that. Marrakech has other nickname because of this place - city of fairy tales and spells. Story tellers tell their stories in front of the stalls (unfortunately, if you do not know Arabic or Berber, you will not know much 🙂 ), acrobats show their skills, magicians their spells, musicians their non-talent and inseparable part of this place are also snakes, cobras or monkeys with their instructors. In my opinion, noting for Greenpeace.
In addition, you can meet here women who make henna tattoos or various vendors with precious argon oil (I can not guarantee you here on the street whether it is genuine argan oil or not), with masks and many different things. Additionally, just behind the square begins a labyrinth that called medina. Medina is an old part of the North African cities. Typical medina elements are the labyrinth of many narrow streets, a unique atmosphere (like in the medieval) and walls around the perimeter of the medina. You can also find inside tens of small businessmen with clothing, scarves, jewelery, spices, or with typical souvenirs as magnets and postcards.
All that together - colorful shops, cobras, monkeys, amazing street food ... creates an all-night, unforgettable show that called Jemaa el-Fnaa. 🙂
III. What not to do in Jemaa el-Fnaa
This square is unique, but not every European must love it. Especially those who do not have an experience with the Arab world. Be prepared for chaos, noise, and occasionally harmless offer from sellers or people from food stalls, who will try to convince you that their stall is the right and the best. It's part of the culture that you come to know. ? In addition to chaos and losers, especially if you look totally like a tourist, there are a few other things/informations that you should know and I decide to write about them.
Food that was heat treated - grilled or cooked, is edible for you. I ate many times with many other tourists in the square I have never had a problem. Be careful with the salads that wasn't heat treated and it is hard to say in which water the man washed the salad. I will write about specific local foods a little later/lower. 🙂
Beware of juices and ice
The local juices are a big risk. Totally tasty juices for a few cents are a big attraction, but, unfortunately, I met/saw many times that the juices were diluted with water and it was not always a mineral water. Especially, be careful with orange juices that are most desirable and it is a reason why the owners of the stalls have already prepared orange juices in a bottle where is not only the pure juice but also a water, mix. Juices from other fruits are mostly made in front of you. In my opinion, it would be better if they had a little higher prices than make such fake juice that can make from your trip "shit trip."
Be careful also with the ice. Not only in Morocco but also in your other trips. It's a hidden threat that can really make your trip very uncomfortable. Although most of the locals make the ice from mineral water, bottled water, it's a risk that, in my opinion, doesnt make a better taste of juice.
So, recap: If you like orange juice and you want to be sure that you will not always be looking for a toilet, prefer orange juice in a restaurant. It will be more expensive but better and more reliable. Other kinds of juices you can try on the square. And the last advice, dont use ice in the juices, say "no ice."
III. 2. Prices and HOW TO NEGOTIATE GOOD PRICES
You are in the Arabic world, Berber-Arabic world. That means that you have to negotiate about prices, otherwise you will pay more, really more, than you have. Juices and meals have fixed prices on the square but you can negotiate a drink for free "if I visit your stall." Everything else, clothes, costume jewelery..., is being negotiated. It's a rule that you should pay more or less 40% of the first price that the local businessman says. So when the local man talks about 100 dirhams (it is less than 10€), you know that the right price should be around 40 dirhams, so suggest 20 and try to get together on the compromising 40. Make a bluff, say that you know the real price and the an another businessman offers you better price. Try to look a little as "I am not interested" and not as "I really want it." I know the local prices well, so I often take just money which I need and the I show him everything I have and simply get it or not.
I think Marrakesh is a bit more specific and complicated than other places in Morocco. There are many tourists, so traders have habbit to say you really high prices than usual. So, in Marakes, I propose to push a price to at least a third of what the person says. And make a deal is harder here because local traders know that they can sell a thing to other tourists for higher price than you want. Even the your price can be too much for Morocco but they know that others are more stupid or they do not care. If you want to buy something small, it is not so important where you will buy it and how good is your haggling for a few dirhams but if you want to buy something more expensive, some clothes, try to find stalls that are not right on the square and where so many tourists don't come. Your negotiating about price will be easier. Or if you plan to visit other parts of Morocco, go through the Atlas to the Sahara, you can wait for smaller places where it will be easier to negotiate. There a trademan is glad that someone come to his store and don't calculate with a fact that other tourists will come soon and they maybe buy it more expensive.
The price for the photo is not 50 €!
Another money advice concerns local attractions, the show that Jemaa el-Fnaa offers. I mean those charmers of snakes,trainer of monkeys, acrobats, musicians, etc. These artists (often just in quotes) are divided into those who make the show and those who choose the money and check if somebody take a photo without without paying. If you want to make a photo of these people or take pictures of a snake or a monkey, they can ask 50 € for such photo. Some people really pay 50€ or other high price for the photo. I was a witness of it. Don't forget, the real price of such photo is about 20 dirhams, or 2 €, and not tens of euros!
Taxi. At first make a deal, then get in
At first, in these countries, it is better to make a deal about price before to take photos or use a local taxi. It gives you a certain advantage for the negotiating/haggling. I can not tell you how much you should pay for taxi because it depends where and how far you are going, but the real price is mostly half what the taxi driver says. So, don't forget, at first, make a deal about price, then you can sit to the taxi.
I have already experienced that the taxi driver immediately said a low, local price. We were 4 and he wanted 30 dirhams together for a few minutes of driving but this is not common. 😀
Warning: Local taxi drivers are starting use a argument that they can not pick up 4 people to the car. In short, they want to push you to take two taxis. Make some business also for their friends. 🙂 It's bullshit that 4 people need 2 taxis and if the taxi driver says it, just find another taxi.
The last advice I want to say about Jemaa el-Fne is security about things. I remembered that I had visited Morocco yz-times. It has never happened that somebody stole some things to me or someone in my group. Never! Iny my opinion (and not just in my opinion), Morocco is the safest country in Africa.
Anyway, if I had to choose a place in Morocco, where I have a little more attention for things, it is this square that is full of hundreds or thousands of people. In such a crowd, it is difficult to tell who come there with what intentions. It is useless to take important papers or passports there. Simple, pick a couple of dirhams into your pocket and the rest of your thing can wait you in your hotel. 🙂
IV. Local dishes
Marrakesh has another nickname because of the dozens of stalls with food on Jemaa el-Fne - Mekka of streetfood. What kind of local specialties you can eat here?
Tagine - it is the most typical food of Morocco. Tagine is the name of a clay pot with a blanket in which food is suffocated. That's just our choice what we want to prepare in this pot. So we can try beef tagine, chicken tagine, vegetable/vegetarian, with fish, seafood or my favorite is kefta (lamb) tagine. You can find mainly chicken, beef and so-called kefta (lamb) tagine on the square. If you would want to taste this most typical dish of this country, I recommend you try it in a restaurant than in the square - for example, in Argana reastaurant, where you will have a nice view of the lively square Jemaa el-Fnaa. (Al-Qaeda attacked this restaurant a few years ago but don't worry today.)
Brochette - If you want to eat in the wild atmosphere of Jemaa el-Fnaa, I recommend this food. Brochette is simply grilled meat on the stick. It can be chicken, beef, lamb or some mix. The price of the brochette in the square is more or less same than in a better restaurant. The price of the brochette in Jemaa el-Fnaa is about 70 dirham + attachments. So, it depends on you. If you want to eat in this crazy atmosphere, you can, the brochette is really tasty here! If you want to eat in a quiet atmosphere, you can also find it in a restaurant. 🙂
Pastilla - Another typical Moroccan meal is pastilla. The traditional pastilla was made from dove meat that was wrapped in several layers of puff pastry and eventually sprinkled with cinnamon and sugar. So it is a bit mix of sweet and salty. Nowadays, pastilas are made mainly from chicken meat that is cheaper than expensive dove meat. This is for me one of the most exciting and best Moroccan dishes in this country. I would rather recommend this meal in a better restaurant than in a stall in the square.
Couscous - it is not so a typical meal of this square but it is a typical food of a this world and country, so I must at least mention it. Couscous is manna-croup grains with vegetables and often with some pieces of meat, for example chicken. Prepare home couscous is a long cooking because it is made on steam, so this food is cooked in more exceptional cases, for example, family celebrations or holidays, not in an ordinary day. Many restaurants do not follow this unwritten rule. Friday, a holiday, a normal day... you can find couscous in a restaurant every day.
Harira - it is a typical local chickpea soup with pasta. It is for me the best food of Jemaa el-Fnaa! Price of the soup is only 5 dirhams (so 50 cents). It was just 3 dirhams a few months ago and I think that the soup was better than now but it is still my favourite soup of this square. 🙂 When I'm going to eat here, I'm always looking for a pot with harira. If you have a problem find it, just ask the locals about harira and they show you the place with the soup. 🙂 Some locals eat this soup with dates or with a caramelized sugar but I prefer it without these supplements.
Snails - Another very cheap meal for a few cents are slugs. You can choose bigger or smaller bowl with snails and then you pick this interesting delicacy from their little conchs/shells with a toothpick. I know people who really love this food. If I have to say my opinion: it is not bad but also not something I would search and really want. 🙂 Those slugs are a little tasteless for me. I feel only the salty water in which the slugs are but that's all. One hundred people = one hundred opinions & tastes. 🙂 Try it and make a own opinion.
Sheep's head – I must say that it is a food with which I have the least experience here. You can find a few sheep heads at the edge of the stalls, towards the Koutoubia mosque. If you want, they can cut part of the head for you or if you are a real gourmet :D, you can take the whole head ?, even with eyes and brain - for somebody the best parts. It is greasy meat but many people really taste/like it.
Slilo – it is a peppery/spice cake. You can also find it on the edge of the stalls. It is a mixture of spices, including cinnamon, ginger, cardamom and others. Always in the stall where you can offer this dessert, you can also find a large kettle where is a special peppery/spicy tea. It is typical drink for this interesting dessert. 🙂
Well, after a good dinner, you can go for a tasty mint cake ("berber whiskey" as tha locals call it 🙂 ) or for a good coffee, juice on the floor of this cafe where I is the most beautiful view of the Jemaa el-Fnaa: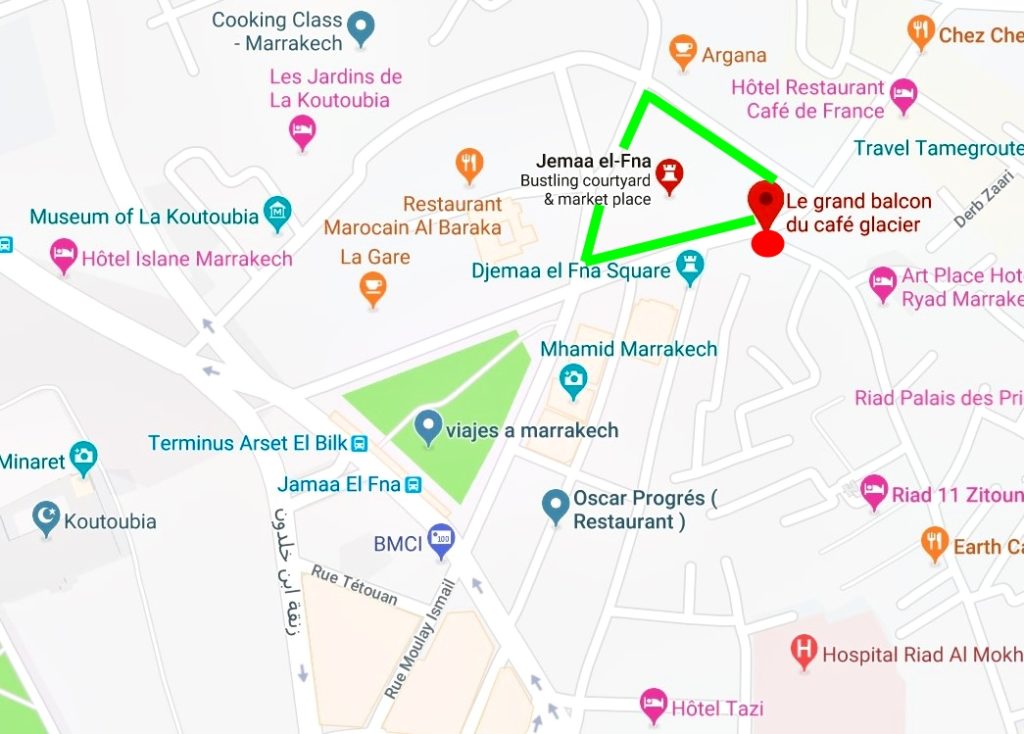 Note:
If you would have enough of this madness of Jemaa el-Fnaa, I recommend to go to the modern Marrakech. It is as another and more quiet face of the city without such chaos and annoying people. 🙂
V. Other interesting places of Marrakech
Koutoubia
The Koutoubia Mosque is the tallest building of Marrakesh and one of the symbols of this city that is immediately near Jemaa el-Fna sqare. This old mosque is from the 12th century when the well-known Almohad dynasty ruled in Morocco and also in today's Spain.
The 77-meter-high minaret of this mosque was as a beacon for nomads and trades who came from the Sahara regions and from the High Atlas.
I can mention other two interesting things about this mosque. The first is about the foundations of an unfinished mosque that you can see right near Koutoubia. It wat the first attempt to build this mosque but the builders did not have good direction of the mihrab and that is very important thing in every mosque. Mihrab is such a dome in the middle of the wall that is in each mosque and show us direction to Mecca - the holiest place of islam where the Prophet Muhammad's was born. Every Muslim should pray in this direction. So they had to start a new/othet building because of the mihrab.
Booksellers resided later at a place where are the bases of the first attempt today and it is a reason why this mosque has also the nickname "the mosque of the booksellers." Stalls with books are already not here.
The second interesting fact is about the four balls on the minaret. I meet mainly two versions about what the three balls symbolize: 1. The three most sacred mosques in the three most sacred places of Islam - Mecca, Medina and Jerusalem. 2. They are to symbolize the three so -called "religions of the books," the three monotheistic religions that believe in one God - Judaism, Christianity and Islam.
Quite often I also see 5 balls because 5 is the number of Islam - 5 prayers per a day or 5 pillars of Islam (duties of Muslim). But 4?
The truth is that there is no rule, how many balls should be on top of the minaret. I even know mosques without minarets (for example, the sacred mosques in Jerusalem).
Here is also a story to explain why this one has 4 balls: The wife of one Almohad king (Yacub Al-Mansur) was caught as she ate grapes during Ramadan. (I also heard a version with other fruits, but I think it is not important. 🙂 ) Ramadan is the sacred month of Muslims when they remind the revelation of the sacred texts to the Prophet Muhammad. Muslims can not eat during the day in this month. The king's wife violated this rule so she had to melt all her jewels and the 4th ball on Koutoubia was maked from her molten jewelers. 🙂
One more note: You can not enter to this mosque, if you are not a Muslim. Only one mosque is officially opened for non-Muslims in the whole of Morocco and that is Hasana II Mosque in Casablanca - one of the largest mosques in the world. I recommend visit this mosque. 🙂
El Badi
The rich Saadi dynasty is also well-known in our countries. Marrakech was their capital city and Saadi kings don't have here just their tombs (about it later) but also their palace. Or, it is better say: that what still stand from the palace.
El Badi could be translated as "unique/ without compare." This palace really could be amazing in its time - in the 16th century. There are reports that the Saadians used the best marble from today's Italy, gold from Sudan and, for example, jade from far China for building of this palace. Can you imagine how they went for something to China at that time? They din't have airplanes or cars! In short, the rich Saadians used the best things that world knew at that time.
The Portuguese paid a lot of money for the building of this palace because they lost the naval battle with Saadians and then they had to pay the expensive ransom for the hostages. But where are all those beautiful and precious things, Sudan gold and Chinese jade today? It is hard to imagine today that this palace was as a twin of beautiful Alhambra palace in Spain because you can see just ruins and an attempt to revive the former gardens here today.
The cause why El Badi looks like it looks today is one great Moroccan king Mulay Ismail from the 17th century. He was from the Alaouite dynasty that governs Morocco today. Mulay Ismal decided to make Meknes as the capital city of country. This city is on the list of 4 royal cities of Morocco just because of him. He also decided to build his new palace complex in Meknes and used building materials from other buildings, including the El Badi Palace in Marakech. So El Badi, as the unnecessary memory of the former dynasty, was destroyed.
Entrance money: 70 dirhams.
Saadians tombs
This dynasty is also buried close from the Saadian palace. This royal tombs was with the El Badi palace as one big complex at that time. It was quite easy go from the palace to the tombs but the time changed Marrakech and now, if you want to go from the palace to the tombs, you mus go a little bit during the streets of the city, not directly. Dozens of tombs of this famous dynasty are in the middle of this busy city but the world discovered these tombs until in the 20th century!
Some tombs are really simple, only mosaics in the grass, but a few, as the tomb of the great Saadian king Ahmad al-Mansur and his family are definitely worth seeing.
Entrance money: 70 dirhams.
Bahia
Another of the Marrakech palaces. Fortunately, this one was not destroyed because it was built after Mulay Ismail 🙂 in the 19th century, so it is really incomparably more well-preserved than El Badi, no ruins. The monarch had closed his concubines here, which could not leave the palace.
We can translated "Bahia" as "shiny" or "brilliant." This palace is a nice example of the Andalusian style - quality, cedar wood, glued mosaic,handmade work of gypsum. In addition, you can also find here a special thing that is not typical for the North African palaces / Arabic world. It is a fireplace, several fireplaces. It is not so cold to have several fireplaces in Marrakech, but diplomats / emissaries who have gone to Europe saw that just rich and important people have the fireplaces, so it is like a a symbol of riches and power. So the local ruler did not want to be different than his European colleagues because also he is a rich and powerful man. 🙂
Entrance money: 70 dirhams.
The Majorelle Garden
This place is an oasis of calm in a busy city. 🙂 The Majorelle Gardens have a name like French artist Jacques Majorelle who created this gardens in the 20th century. If you are interested in botany or garden architecture and looking for a relaxing place in this a little crazy city, you should not miss this place.
Entrance: 70 dirhams (only the garden, without museums).
Menara
The Menara gardens are in the edge of this city, very close from Menara Airport where you land. These gardens are former sultan gardens. Their origin dates back to the first Marrakech dynasty - the Almoravids (11th century) which founded Marrakech. Other local dynasties also used this gardens. The Menara gardens are a public park today where local families like to make picnics here, especially on Friday (Friday is for Muslims as Christian Sunday).
There is also a kiosk, small building with a balcony, and a pond with water from High Atlas. It is said that some rulers had the pleasure of drown people in this pond and looking at it from the balcony. You can also often see this place on magnets or postcards from Marrakech.
Entrance money: for free.
VI. Accommodation
I always say one thing to people who come to discover Morocco or another part of the Arabic world. Especially, if the people don't have experiences with this wolrd. The level of local hotels is somewhat lower than in our countries. It may happen that a local 4-stars hotel remind a 2-star hotel from our country, especially, hotels that are outside of big and modern cities, for example, in the desert areas. In my opinion, it is a bit illogical to expect some extra luxury there. 🙂 But I can say that these hotels are mostly clean and it is not a problem be there in a few nights. Just rooms has old furniture here or it is not a something special see some cables from the wall, broken a socket or a tile. These are the things I normally see in local hotels.
Marrakech has a rich offer of luxury hotels and also the average hotels. You can also sleep in a traditional house that is called riad. These houses are mainly in the medina (I repeat: Medina is the old part of city with a lot of narrow streets). You must have in you mind that if your riad is deeper in the medina, the car/taxi can not take you with your luggage in front of the door of your riad but just somewhere on the edge of the medina. Then, you must walk with you luggage or pay to a local guy with a cart (if he will be there). He will take you and your luggage to the labyrinth of the medina.
Each riad has a courtyard in the middle and the windows of the rooms are no to the direction to outside/ to the street but to direction to the courtyard inside. You can find cheap, really modest riads but also riads that are like beautiful palaces. It depends how much you want to pay. I would recommend to try some decent riad! You can find a lot of riads on the booking.
If I had to recommend a "normal" hotel in Marrakech (but really think also about a riad), I liked Imilchil hotel that is close from the walls and about 15 minutes by walking from Jemaa el-Fnaa. So the first reason, why choose this hotel, is its location. You are very close to the new and also to the old Marrakech. I recommend visit both parts of this city. Another reason is really low price of this hotel, between 15 and 30 € per room per night + breakfast included but forget that the breakfast is with some sausages and hams. It is not a typical local breakfast. Despite the low price, the hotel is decent, clean and I can also compliment the staff. 🙂 Hotel has a swimming pool and a really stylish reception. The combination of these factors makes Imilchil an inexpensive and good candidate for housing.
I hope this article has been interesting and perhaps helpful for you. Another article from Morocco about his other very interesting places soon! I will take you to the ocean, mountains and especially to the beautiful Sahara. 🙂 ?
Photos & text
František Fefe Kekely
Author
Professional travel guide, journalist and travel blogger who specializes in Africa, West Asia (Middle East, Caucasus), but also in some parts of Europe, such as the Balkans or the European mountains.