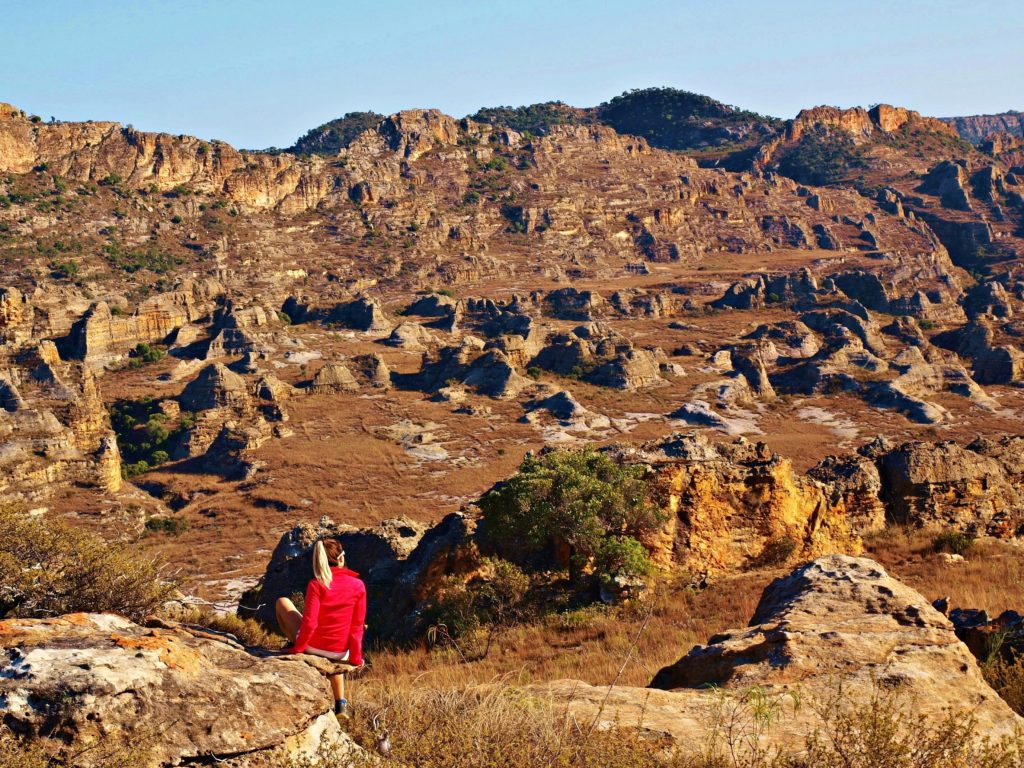 Previous part of Madagascar serial:
I.: Sleep in my sweatshirt and 100€ per night in one of the poorest countries in the world
All day on the beach is a very pleasant, but not very actionable and meaningful activity. Especially if you come to Madagascar, to the southern hemisphere. Logically, I hope that you want to see more than just a sandy beach and a sea here. That would be enough for you go to Croatia or Bulgaria. We went to see the Baobab forest Reniala, which is near Ifaty.
I remember when I saw the word baobab for the first time in my life. It was in our primary school in Ochodnica (my Slovak homevillage), when we were reading the Little Prince. I tried to imagine this mighty and rough tree.
Several years later: It stood in front of me in Reniala and not just one but hundreds of baobabs.
According to Czech Wikipedia, there are 8 species of baobabs in the world, but I prefer the other, foreign sources. They claim there are 9 species of babobabs in the world. 6 species are in Madagascar! We can find other two species in the African mainland and in the Arabian peninsula (one of which can also be seen in Madagascar, although it is not a local native). And one more species of baobab is in Australia.
Madagascar, basically with 7 species out of 9, can be described as the kingdom of these trees! Baobab is simply symbol of this island.
In the forest Reniala it is specie of rubrostypa baobab, called fony.
Baobabs are known to be able to retain water as a natural reservoir. So baobab can also survive in such dry areas. Thick trunk tree can be thicker because of the rain. More rain = thicker trunk tree. Local guy shows us young trees of baobabs, which at first grow only up to the height and then gradually expanding its width.
Local villagers prepared a picnic under the oldest (1200 years old) and the thickest baobab in this forest. They know that they can get some tip/gratuity for it, so 12 people came to prepare the one table and five chairs. I would be the same. Of course, a bottle of rum - the national alcohol of Madagascar, must not be missed on the table. I like local rums. They do it well here and with different flavors, for example rum with vanilla, cinnamon or baobab flavor too. It is simply rum with baobab fruit inside. The picnic was nice surprise for us. So "cheers!" 🙂
We left the hotel and the west coast for the next day. But I must say you something about one unforgettable man - Christian. Africa showed me that serve someone is really kind of art.

We left the hotel and the west coast for the next day. But I must say you something about one unforgettable man - Christian. Africa showed me that serve someone is really kind of art. Christian works in the mentioned (in the 1. part) local-hotel Les Dunes D'Ifaty. You can be really angry but when you look at this master, the bad mood will pass you. He is always smiling and incredibly kind. He always greets and asks how are you today. Of course, it is always with his kind smile. He wishes you a nice day and a lot of experiences in Madagascar. It does it with such sincerity, not as a programmed robot. He has great patience for people. Choosing dinner with him is always a bigger experience than the dinner itself. At the last one, he stopped near our desk and told us how we are great and that we will really miss him.
It is something what is really hard to describe with words and what I didn´t see and know before Africa. It is not just with Christian here but in most African hotels and restaurants, even in those inexpensive, in South Africa, Zimbabwe, Kenya ... I´m encountering such people like Christian very often in Africa. This is service that acts like a balm for the soul. Something what I can not easily find in my native Slovakia.
Back to our island wandering. We went from Ifaty. We stopped for a short time in Toliara, where we landed a few days ago. We wanted to look the local market and try a local creaking rickshaw for less than one euro. It is other interesting experience. We also bought something for the our way in Toliara and then we continued to the inland of the island.
We went through several villages where we watched the life of local people. I have visited several African countries but this is a truly unique view. You can see here small houses from mud where in my opinion you would not sleep inside. The wooden booth is a local shop. Dirty kids with snots chase cars. Sometimes we stopped and gave some candies to them. Adults are also interested in candies. Time was stopped here and we are several centuries back.
We stopped near local, painted cemeteries, what I have never seen in Africa before:
I have never seen this before:
First chameleon crossed our way. It liked to stay in the middle of the asphalt road. You can not find more Chameleon species nowhere than in Madagascar.
One of the last stops during our transfer from the coast was the town Ilakaka. It had about 40 residents in the early 1990s but people found sapphire here. It was start of sapphire madness. The city grew rapidly by tens of thousands of inhabitants. People are still looking for sapphire here.
Of course, the local boss of the sapphire is some white man from Ukraine.
The goal of this trip was the Jurassic Park Isalo. The Jurassic is because it is from Jurassic period, so over 150 million years old.
I want to apologize if anyone wait the Spielberg's world with living dinosaurs. Of course, you can not find this here today 🙂 but there is surely something what you can see and discover.
We slept in magnificent, stone cottages that genially look into this countryside. Some pool and a good restaurant can not be missed here. Again, it is a total luxury with price over € 100 per night. Simply, welcome to Africa.
(Look these photos down and then return back to the village up. Neighbors.)
But we did not come here just to have dinner and swim in the pool. We went to hiking in the morning. Sandstone rocks were all around us. The last morning orange rays of light with rocks created a beautiful paradise for photographers:
We saw several tombs of Bara people on the rocks. The people from Bara tribe are also the Malagasy people with Malagasy language and live in this region. When one of the Bara people dies, his body will be under the stones here on the rocks. The family exhumates his body one year after death. They take his body home, where they prepare celebration. This party takes one to two days. It is because of the ancestor's worship. The ancestor will not be angry. Then, after the celebration, the son (if he/she didn´t have son so somebody other from family) bury the dead in another final place under the stones. It can be quite high.
Closer to the capital city, more to the center of the island, people do such exhumations every 4 to 7 years, not just once after one year. It depends on the family. And the celebration with the dead takes 4 to 5 days.
The Malagasy are interesting because they are Christians, but they still hold such non-Christian elements from their original animistic religion. Even one local woman told me that especially local Catholics practice these celebrations with dead, not Protestants. The Muslims, who were in the 10th century in Madagascar, have their mark/step here too. For example, for some Malagasy people is the pig unclean and unsuitable animal. So when you want to visit some sacred place after lunch with pork food, you should go washed. Local people are accustomed to sacrificing a zebu (hunchbacked cow/cattle) in the New Year. It is not our New Year but the Arab New Year. Christianity, Islam and traditional animistic religion are a bit together in one mind. Simple, it is unique!
We continued our journey through the Isalo National Park - the most visited national park in Madagascar. We met various interesting species of insects and several bird species. Many of these animals are only here in Madagascar. We also found a small scorpion who was hiding under the stone. It is dangerous only for some child. What it could do to an adult, we did not try. 🙂
We needed to go down from the sandstone cliffs to the Green Canyon, where a steak table was prepared for us. Of course, steaks were prepared from local and very tasty humpback cow zebra. You will not find other cattle in this region. It is a typical animal for Bara people.
Brochette (meat on a stick), typical local poor bio-chicken and other good things were also on the table. We did not eat alone. When we got food on a stone table, the family of brown lemurs came to look at us.
Lemurs catta with their black and white tails (king Julian from Madagascar cartoon) had a walk just close from us. We were lucky because sifaka, the most beautiful lemur, jumped on it´s two feet to us too. So we had lunch with three species of lemurs. Lunchtime atmosphere what you can enjoy just in Madagascar! Lemurs don't live elsewhere. 🙂
We could not wish for a better society. Fortunately, these so-called half-monkeys are not so insolent and bad as, for example, baboons from the African mainland. If you sit at the table, lemurs just sit close to you and watch what we do. You can make a selfie with them. Everything changes when when you leave the table. The cleaning company comes to the table and the food goes away very fast. Not everything, just what lemurs like:
After such an unforgettable lunch we continued through the Green Canyon to the Blue and Black small lakes with small waterfalls. I really had a feeling in the canyon like in the Jurassic Park. Only pterosaurs fly over our heads were missing. Some of us had to try to swim in the lakes wehre are in the middle of the national park. Of course, me too. Do not worry, it's legal. It is not coincidence that the other name of these lakes is "Swimming Pools." It was really a perfect and refreshing end of the Jurassic day.
In the next part: We will see the most beautiful trees in the world and we will be close from the largest carnivorous mammal of island...
Photos & text
František Fefe Kekely
Next parts:
III.: The most beautiful trees in the world and we were very close to a wild fossa
One month in Madagascar III: The most beautiful trees in the world and we were very close to the wild fossa
IV.: The best day and world where "women" rule ♛
V.: Night in the jungle and 40 tons weighing animal in the air
Author
Professional travel guide, journalist and travel blogger who specializes in Africa, West Asia (Middle East, Caucasus), but also in some parts of Europe, such as the Balkans or the European mountains.